Union of European Piano Tuners and Technicians Associations

Europiano is a union of 18 independent national piano tuner and technicians associations.
The main purpose is to be a forum for the craftsmen in the field of piano technology, to support their professional and commercial interests, and thus to make the best contribution in preserving the cultural value of keyboard instruments and their music. More about Europiano.
Is the highest organ of the union, and takes place every year in the spring. It is open for all board members and staff of the national associations, and all the committees and other associated parties. However, only the delegates from the national associations have a voting right, and their votes are relative to the number of members of the association that they represent.
Our Profession
Most members of the Europiano associations are piano technicians. Others are piano manufacturers or dealers.
What Does a Piano Technician Do?
Most people think the piano technician only tunes pianos. Tuning is a large part, and the most known part of the work of a piano technician, but there are more aspects to our profession.
A piano technician has to take care of the health of the whole instrument, understanding the function and working of all the parts and being able to regulate and repair them.
To learn all the required techniques there are training possibilities in several countries in Europe.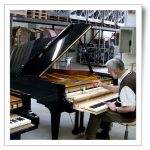 The best way to learn is in one of the schools.
Europiano on Facebook