This is a working session for nominated Delegates from the seventeen national Associations. The meeting also includes sub-committees and the Executive Board Meeting. The meeting normally takes place in November, and is hosted by a different member Association each year. This gives a valuable opportunity for delegates to meet colleagues throughout Europe, and experience different cultures - all in a piano context.
The delegates meeting in Ludwigsburg 6 - 7th of November 2020 was replaced by an on-line General Meeting on Saturday the 7th of November.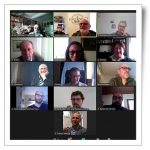 For a full report see the Europiano Magazine 2020-4
The next delegates meeting will be held in Vienna on November 12th, 13th and 14th of 2021.