DELEGATES' MEETING SEGOVIA
NOVEMBER 8th -10th 2019
ASETAP is pleased to receive you and celebrate the Delegates' meeting in Spain.
In the next pages you will find information about this next event:
How to get there
By plane, you should fly to Madrid-Barajas. There is a regional train that bring you to the train station Madrid-Chamartín in about 25 min. This line is currently under construction, if necessary we would inform you of an alternative route to go to Chamartín by bus or metro.
From there you can take a high-speed train towards Segovia. It's important to buy the tickets of this high-speed train online in advance, as it's very popular and it usually gets full.
Be aware because there are regional trains that go to Segovia too, but the journey takes longer, more than one hour and a half!
If you spend some days before in Barcelona, there are high-speed trains that connect this city with Madrid in about 2 hours and a half. You will arrive at the train station Madrid-Atocha, so you will need to go to Madrid-Chamartín and take the train to Segovia.
The train station of Segovia is not in the city, so you have to take a taxi (10€-15€), or we can try to pick you up.
If you inform us at what time you expect to arrive, we can fleet a car to the Segovia train station.
Click the link below to get to the Renfe online shop:
https://venta.renfe.com/vol/home.do?c=_BU4F
For those that are coming right to the hotel, by car or other means, this is the complete address:
HOTEL VENTA MAGULLO
Calle Rafael de las Heras, 1
40196 Segovia
Phone: +34921435011
e-mail: info@ventamagullo.es
web site: http://ventamagullo.es/en
Planning
Friday, November 8th
10h to 14h Arrival at the Hotel (lunch is not organized)
15h to 19h Open technical course
21h Dinner at Venta Magullo restaurant
Saturday, November 9th
8h Breakfast
9h Welcome to the meeting, splitting into three working groups:
Congress Europiano Warsaw 2021
Europiano Training Courses
Nomenclature
11h Europiano Delegates' Meeting
13h Lunch at Venta Magullo
14.15h Bus to 'La Granja de San Ildefonso'
14.45h to 17h Visit to the Royal Palace of 'La Granja'
17h Bus to Segovia
17.30h Walk through Segovia
20.30h Dinner at Casa Duque, C/ Cervantes, 12, typical restaurant since 1895
Sunday, November 10th
8h Breakfast and farewell
Prices
We've calculated an all-included fee, for one or two people.
This fee includes: two nights and breakfasts at the hotel, two dinners and one lunch, the bus, tickets
for the visit of the Royal Palace and the audio guide, room rent for the meetings (only participants).
We will make an invoice for each of you as you state in the registration form. If you have an
international VAT number this invoice will be without taxes.
Without taxes:
one participant…………………...…..210€
one participant and partner………...360€
With taxes:
one participant…………………...…..250€
one participant and partner………...435€
Registration
In order to register you should fill in and sign the attached registration form. There you can inform
us about how many participants will come, which data we'll use to make the invoice, and if any of
you need some special diet.
We've booked all the hotel's rooms, but we should confirm our assistance 45 days before the event.
Registration deadline: September 15th
Registration form (download opens in a new window)
You can send it to asetap.es@gmail.com
Once we receive your form we'll send you the invoice and our bank account number where you can
pay the fee.
Segovia is a city of about fifty thousand inhabitants located northwest of Madrid. Its Aqueduct and
its old city are part of the World Heritage. You can easily walk within the walls, although most of
the streets are uphill. The Roman Aqueduct, the Cathedral and the Alcázar (Fortress) are not to be
missed. Outside the walls it is surrounded by a green belt through which it is very pleasant to walk
and which offers spectacular views of the city.
The local gastronomy is famous, especially composed of winter dishes, the most typical is the
roasted suckling pig (Cochinillo asado).
La Granja is a Royal Palace built between 1720 and 1740, during the reign of Felipe V. The first
king of the Bourbon dynasty, grandson of Louis XIV, changed the royal residence of the Escorial
for this new place located north of la Sierra (mountain chain north of Madrid). The palace and
gardens were built where there was the old farm and hostelry of the Jerome's monks. The architects
Ardemans, René Carlier, Procaccini and Juvarra were involved in its construction.
It has an exhibition of Flemish tapestries and 21 sculptural fountains scattered throughout the
gardens, after the style of Versailles.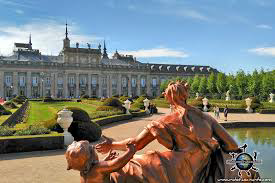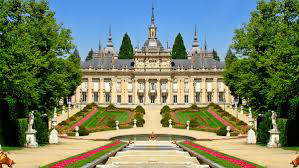 Friday 8th, welcome dinner:
Sierra del Guadarrama
Welcome aperitif (served at the center of the table):
Homemade chicken croquettes
∞∞∞∞
Cream of lobster
∞∞∞∞
Leek of cod confit with leek muslin
∞∞∞∞
Roast Segovia suckling pig "guarantee mark" with Castellana salad
∞∞∞∞
Cream of fresh cheese and natural raspberries with broken almond cookie
Mineral waters
White wine "Quinta luna de Ossian" 100% Verdejo
Red wine Monteaixa Media Crianza. DO. Ribera del Duero
Coffee or tea
Liquor or combination
Saturday 9th, lunch at the hotel:
To choose a First, a Second and a Dessert:
First: Asparagus two sauces, special hors d'oeuvre, scrambled eggs with prawns, fish soup, macaroni
in bolognese sauce or dish of the day.
Seconds: Grilled beef steak, grilled salmon, eggs with chorizo and ham, duck confit with mandarin
sauce and sage or fish of the day.
Deserts: Rice pudding, flan, custard, junked or natural fruit.
Wine or mineral water