The General Meeting
This meeting takes place every year in the spring and is open to all board members, representatives from the national associations, and other associated parties. However, only Delegates from the national associations have a voting right, and their votes are relative to the number of members within the association they represent.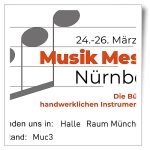 The next General meeting is on March 25th, 10 a.m. CET, at the Nuremberg Music Fair
Lissabon room in Hall 10.1
For those who want to book a hotel the Ringhotel Loew's Merkur is advised
Pillenreuther Str. 1
90459 Nürnberg
https://loews-hotel-merkur.de/startseite.html

Please also register to get the link for the Zoom meeting.
After you have pushed the Send button, scroll to the top of the page to answer a security question.