When you want to register only yourself, fill in your data and click on
.
When you come with a partner(s) who will only follow the partner program, please give us her/his name(s) and click on
. Here you can also register other participants or partners, upto 4 in total. When done click on
Go to the on line registration form for up to 4 persons.
When you get into the payment screen, and you want to go back to change your registration, don't use the back button of your browser but see the picture below.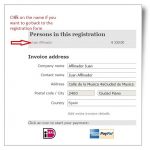 When you want to register a larger group, download our group registration form,
for Excel at group registration form
And send it by e-mail it to secretary@europiano.org
Next, transfer the total sum to:
Europiano
Bank account/IBAN number DE65 6837 0024 0018 0026 00
BIC/SWIFT number: DEUT DE DB683
Payment reference: Registration Fee Europiano Congress 2015

When you have finished your registration for the congress, you will get a confirmation by e-mail with the booking code for special Europiano Hotel rates.