Dear European Piano Makers, we are pleased to invite you to the
14th Europiano Congress from 8 to 10 March 2024 in Nuremberg.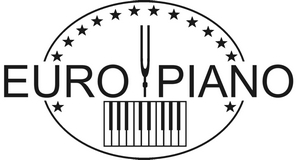 The congress will take place at the same time as the music fair Akustika'24 and will thus present itself in an exceptional professional and cultural setting. Craftsmen of instrument making from all
fields will show their skills and their instruments.
All the renowned piano and grand piano manufacturers in Europe will be represented with their instruments in a separate, spacious piano area. Together with suppliers, they will enrich the seminar
programme for you, the participants of the Europiano Congress, with specialist lectures and workshops.
For in-depth seminars, the Europiano Congress will have a closed area where you can expect professional lectures.
The topics range from reports on experiences about the vocational training system with the central function of the technical school in Ludwigsburg, to innovations for weighing, the "leading" of actions, occupational health and safety, pinblock replacement and understanding modern soundboards and their constructions.
We would like to give you a platform for diverse training and further education, for professional exchange as well as the opportunity to get to know or meet like-minded people.
The event will be rounded off by a get-together of all those involved in our beautiful and versatile keyboard industry on the exhibition grounds as well as a colourful piano maker's evening in the
historically and culturally rich city of Nuremberg.
More information later.
We look forward to seeing you too!
Your BDK board team
Registration and further updates:
From the mid-end of July, you can register for the Europiano Congress via a link. At that time we
will also give you a hotel recommendation.
https://www.europiano-congress.com/en